26 January 2009
Grenoble, France

Dear Colleagues and Friends of CEIMSA,
I was 8 or 9 years old when I played on a Little League baseball team in San Antonio, Texas. Our neighborhood group played teams from other communities in the city. One evening we were scheduled to play a late night game. Strong lights cut through the warm summer air and illuminated the Little League baseball diamond in the middle of our small park. It was in this exotic setting, as a child playing a late night baseball game in the neighborhood park, that an experience was burnt into my memory forever. It was my turn to come up to bat. We were surrounded by "serious adults" looking for "talented children," and our team was loosing badly once more (we lost practically every game we played), but there was some unusual excitement that night among my playmates. The pitcher on the other team was a vicious little boy. When my turn came, I stepped up to the home plate with the bat resting on my shoulder just looking at this boy, about my age, making faces at me. He could throw the hard ball faster than anyone I'd ever seen, and I grew a bit scared when the thought entered my head that he might decide to throw the ball directly at me. I laughed nervously at the idea of such foul play, which seemed to disturb him even more, and in my state of anxiety I watched the ball go across the plate. Three strikes and I was out. I was relieved to be finished with that experience in front of home plate. My teammates hated and feared this pitcher and were chattering constantly about him the entire night. We lost the game, of course (which was no big thing, since we usually lost the games we played), but that night of communication between the pitcher and the batter has stayed with me. It seemed unfair, but no one could quite put their finger on what was happening. He had gained a psychological advantage that was not written in the rule book, but had nevertheless emotionally destabilized us, making us fearful to play baseball. I played almost every sport in my American public school career until I was 17, but baseball I never played again.

Our research on ethics and social class relations has taken us to the work of Karl Kautsky in his classic essay, Ethics and the Materialist Conception of History (1906), where the German Marxist intellectual attempted to analyze "the origins of moral philosophy" from a historical materialist perspective. How did reflexivity enter into the human thought process? What exactly is conscience and when did it appear in human history?

In the history of Philosophy the question of Ethics comes to the fore soon after the Persian wars [500 - 449 B.C.]. The repulsion of the gigantic Persian despotism had a similar effect on the tiny Hellenic people to that of the defeat of the Russian despotism on the Japanese. At one blow they became a world-power, ruling the sea which surrounded them and with that commanding its trade. . . . after the Persian wars, Greece, and Athens in particular, became the headquarters of the world commerce at that time, commercial capitalism embraced the entire people and dissolved all the traditional relations and conceptions which had hitherto ruled the individual and regulated his dealings. The individual found himself suddenly transplanted into a new society . . . in which he lost all the traditional supports, in which he found himself left wholly to himself. And yet despite all this seeming anarchy, everyone felt not only a need for distinct rules of conduct, but he found more or less clearly that in his own inner being there worked a regulator of his action which allowed him to decide between good and bad, to aim for the good and to avoid the bad. This regulator revealed itself as a highly mysterious power. Granted that it controlled the actions of many men, that its decisions between good and bad were given without the least delay and asserted themselves with all decision --if any one asked what was the actual nature of this regulator and on what foundation it built its judgments, then were both the regulator which dwelt in the breast of every man, as well as the judgments which appeared so natural and self evident, revealed as phenomena which were harder to understand than any other phenomena in the world.
So we see then that since the Persian wars Ethics, or the investigation of this mysterious regulator of human action --the moral law-- comes to the front in Greek Philosophy. Up to this time Greek Philosophy had been in the main natural philosophy. It made it its duty to investigate and explain the laws which hold in the world of nature. Now nature lost interest with the philosophers ever more and more. Man, or the ethical nature of humanity, became the central point of their investigations. Natural Philosophy ceased to make further progress, the natural sciences were divided from philosophy; all progress of the ancient philosophy came now from the study of the spiritual nature of man and his morality.
. . . the method of philosophy changed. Natural Philosophy is of necessity bound to rely on the observation of nature. On the other hand how is the moral nature of man to be recognized with more certainty than through the observation of our own personality?(Karl Kautsky, Ethics and The Materialist Conception of History, 1906, pp. 11-13)
More recent works touching on this subject are Michel Foucault's series of studies of the role played by pleasure in Greek antiquity and the forces of desire in later Judeo-Christian cultures. Also, Gilles Deleuze's The Fold (1988), is a useful study of 17th-century European culture and the rules that ordered it.


History, of course, offers no shortage of illustrations of blind arrogance and immoral abuses of power. Shortly before quitting Angola in early November 1975, for example, the Portuguese masters sabotaged the building structures in the colony, causing hundreds of millions of dollars in damage, by pouring cement in the plumbing systems. It was a gratuitous, mean-spirited act of frustration before abandoning the colony they had controlled since 1575.

After describing the culture of bullying and the histories of Imperialist domination, Leften Stavros Stavrianos writes of the effects of modern technology on human thinking :

The traditional dichotomy between periphery and center now is being undermined. The
dynamic technology of the current Third Industrial Revolution is blurring the old distinctions
between the hitherto privileged peoples of the First World and the subject peoples of the
Third. The inhabitants of all regions now are becoming subject peoples --that is, peoples
subject to the imperatives of the global market economy. With Third World conditions
sprouting within the metropolitan centers, the history of the Third World no longer is the
history of distant and exotic peoples with whom we have only tenuous contact. It is now an
integral part of our own history. Hence the need for 'A Common Vision' . . . (L.S. Stavrianos,
Global Rift, 1981, p.27)
These are only some of the historic concerns which will be discussed at our International Conference on "Ethics in American Class Society" at The University of Paris - Nanterre on 6 May 2009. The entire program for this conference can be consulted at :
8 items
below, CEIMSA readers will find heuristic attempts to come to terms with the mass murders in Gaza by
Israeli Defense Forces
over the past several weeks, preceding U.S. President Barack Obama's Inauguration on 20 January, and following
the politics of starvation and misery
led quietly by Israel against the Palestinian people in Gaza for the year-and-a-half preceding these Israeli military attacks with the use of U.S. weapons and the complicity of the European Union.
Item
A.
is an article by
Omar Barghouti
on the possible future of Hamas in Gaza.
Item
B.
is an article from
Michael Parenti
on "Capitalism's Self-inflicted Apocalypse."
Item
C.
is a reply by
Al Burke
to
Professor Edward Herman's
question on 19 January :
Are there no petitions or organized protests in process to contest this monstrous EU support of Israel's genocidal policies and penalizing of its victims?

Item
D.
is an article by
Gabriel Kolko
on the consequences of three-week orgy of Israeli massacres in Gaza.
Item
E.
is an announcement from
Mouvement de la Paix - Genoble
, on local mobilizations in defense of Human Rights.
Item
F.
is a short interview with
Noam Chomsky
on Democracy Now! discussing the moral implications Israeli "self-defense" in Gaza and America's role in these massacres.
Item
G.
, sent to us by our Grenoble colleague,
Dr. Sheila Whittick
, is an article by
John Pilger
on awarding the "Bush freedom medal" to Israel.
Item
H.
is a controversial interview with
Professor James Petras
by
George Kenney
of
Electric Politics
in which Professor Petras accuses his former student, Norman Finkelstein, Noam Chomsky, and other Jewish American critics of Israel of being "closet Zionists," due to an irrational tradition-bound "tribal solidarity." Petras goes on to discuss in this interview the need to better understand what it means to be Jewish living in the modern world, where the 3-billion-dollar-a-year U.S. subsidy to Israel for military "defense" is causing so much harm.
In addition, we offer CEIMSA readers the following remarkable account from the American news broadcast,
Democracy Now!
, on events surrounding the murder of two Palestinian students in front of their father when they were ambushed on their way home before the temporary cease fire :
And finally, we urge readers to visit the Palestinian Holocaust Museum, on line at:


Francis McCollum Feeley
Professor of American Studies
Director of Research
Université Stendhal Grenoble 3
http://www.ceimsa.org/
__________________


A.


from Omar Barghouti :
Date: 21 January 2009
Subject: EU top official: No reconstruction in Gaza with Hamas
THE JERUSALEM POST


Not that any EU official is particularly moral, principled or has any human decency, but EU External Relations Commissioner Benita Ferrero-Waldner will go down in history, perhaps, as one of the most repugnant, racist European politicians of all time. A true disgrace to the human race ...

This, togther with the Spanish, German, Italian, French, British and Czech leaders' congratulatory dinner with Olmert, must crown years of absolutely shameful EU complicity in Israeli crimes against humanity. The EU in Gaza has not only lost any semblance of commitment to human rights or international law; it started competing vigorously with the US in its total disregard for global south creatures, relegated to the status of relative humans.

It is worth noting, as became apparent in the failed Arab Summit in Kuwait, that Saudi Arabia, Egypt, and the complicit PA in Ramallah are also all on board with this US-EU-Israeli plan to use reconstruction as blackmail, to achieve what all of Israel's arsenal has ultimately failed to achieve: "regime change" in Gaza and total submission to Israel's will.

Omar


J'lem: Gaza rebuilding may legitimize Hamas


by Herb Keinon



U
N Secretary-General Ban Ki-moon will travel to the Gaza Strip Tuesday, amid mounting concern in Jerusalem that the massive efforts expected to reconstruct the region will lead to a de facto recognition of Hamas rule there.
While Ban, who will balance out his trip to Gaza with a visit to Sderot, is not expected to meet any Hamas leaders or representatives, Israel is bracing for a wave of criticism following his visit there and the media attention it will bring it its wake.
Ban's visit, according to Israeli officials, was coordinated with the Prime Minister's Office. One official said that over the next few weeks, many visiting leaders were expected to ask to visit Gaza. Ban will be the highest level diplomat or leader to visit the Gaza Strip since Hamas took control of the region in 2007.
Ban is scheduled to inspect the damage in Gaza caused by Operation Cast Lead and visit UN facilities hit in the fighting.
Speaking in Kuwait, Ban said he was determined "to do all possible to ensure that immediate steps are taken to bring relief to the people of Gaza, and to embark without delay on the process of recovery, rebuilding and reconstruction."
Foreign Minister Tzipi Livni spoke by phone with Ban on Monday, in preparation for his visit, and stressed that "Hamas was responsible for the situation in Gaza and is responsible for the destruction there."
Livni, according to her office, said that the efforts to improve the situation in Gaza must not be used "to strengthen or legitimize a terror organization that has proven through its actions that it endangers the future of the population it purports to lead."
Representatives from the Prime Minister's Office, the Defense Ministry and the Foreign Ministry, meanwhile, are working on developing ideas that would channel the billions of dollars expected to be funneled into Gaza in a way that will neither build up Hamas nor give the organization legitimacy.
Another Israeli concern is that the massive amounts of steel and concrete that will be needed to rebuild Gaza will be rerouted to reconstructing Hamas's badly damaged rocket-producing capabilities.
Among the ideas being discussed in Israel regarding Gaza reconstruction is to demand that responsibility for reconstruction be given to the World Bank, UNRWA, or perhaps the Palestinian Authority.
"There is a real concern that all this aid could lead to a de facto recognition of Hamas, because they are still in control. We are trying to figure out ways to reconstruct Gaza without Hamas," one official said, noting that this may be impossible to do.
This dilemma, however, is also appreciated abroad, and a key EU official, EU External Relations Commissioner Benita Ferrero-Waldner, said Monday in Jerusalem that while the expected humanitarian aid to the Gaza Strip would flow quickly, reconstruction of buildings and infrastructure would only begin when the EU had an acceptable Palestinian partner.
While Ferrero-Waldner did not explicitly single out Hamas, she strongly hinted that it would be difficult to rebuild Gaza as long as Hamas remained opposed to peace efforts.
"For reconstruction you also need on the other side an interlocutor, so how will this be done? Is there a reconciliation process in the meantime? What will be done? All that is open," she said.
She also said that Hamas's confrontation with Israel was hindering prospects of a better life for the people of Gaza.
"We don't want to go on to reconstruct Gaza every I-don't-know-how-many years," she said. "This is not what we want. What we would like to see is a clear sustainable peace."
"We have been at the side of the Palestinian population always and we will be at their side, but at the same time it's also for the Palestinian population on both sides to say, 'We want this peace,'" she said.
"We know that many people have been killed and we felt terribly sorry. We don't want to see civilians killed, but at the same time the population has to decide if it wants to go to peace."
Ferrero-Waldner suggested a rapprochement that returns Fatah to Gaza could be key to arranging international help. "We are already in the first preparations for a conference on immediate humanitarian needs and then later on there would be, at the right moment, a conference on reconstruction, but that is more complicated," she said.
While Ferrero-Waldner was talking about a conference to reconstruct Gaza, the French continued pushing the idea of an international Middle East peace conference.
France on Monday urged the rapid convening of an international conference toward eventually creating a Palestinian state, a day after French President Nicolas Sarkozy suggested the international conference idea during his trip with five other European leaders to Jerusalem.
"It is urgent that a dynamic of negotiations is launched... to create a Palestinian state," French Foreign Ministry spokesman Eric Chevallier said. "An international conference should be organized quickly with this in mind."
A senior Israeli diplomatic official, however, dismissed Sarkozy's idea as a non-starter. "France and Egypt have been pushing the idea of an international conference for years, but it is not going anywhere," the official said. "Why would Israel be interested in an international conference? So it could invite more pressure on itself?"
Furthermore, anticipating the possibility that Likud head Binyamin Netanyahu may win next month's elections, the official asked whether Sarkozy really though Netanyahu would agree to a new international conference.
"How would that conference strengthen bilateral Israeli-Palestinian ties," the official asked. "What would we need it for?" He said this idea was not being seriously considered in Jerusalem.
According to the official, the Annapolis process remained the only diplomatic game in town, and that movement on this track would have to wait until US involvement following Tuesday's swearing in of President-elect Barack Obama. Even then, he said, it was unlikely - considering the military operation in Gaza - that Palestinian Authority President Mahmoud Abbas would be interested in the near future sitting down with Israel's leaders.
"It will be difficult for Abbas to go back to business as usual with Israel," he said. "There will need to be some context for renewing ties, which could be channeling aid into Gaza through the PA."
In a related development, Italian Foreign Minister Franco Frattini arrived in the Israel Monday night and met with Livni. He is expected to meet with PA leaders in Ramallah and oversee the delivery of Italian humanitarian aid into Gaza at the Kerem Shalom crossing on Tuesday.
AP contributed to this report.
This article can also be read at
http://www.jpost.com
/servlet/Satellite?cid=1232292905929&pagename=JPArticle%2FShowFull<
http://www.jpost.com/servlet/Satellite?cid=1232292905929&pagename=JPArticle%2FShowFull
>
________________


B.


from Michael Parenti :
Date: 18 January 2009
Subject: Capitalism's Self-inflicted Apocalypse.



Capitalism's Self-inflicted Apocalypse


by Michael Parenti


A fter the overthrow of communist governments in Eastern Europe, capitalism was paraded as the indomitable system that brings prosperity and democracy, the system that would prevail unto the end of history.

The present economic crisis, however, has convinced even some prominent free-marketeers that something is gravely amiss. Truth be told, capitalism has yet to come to terms with several historical forces that cause it endless trouble: democracy, prosperity, and capitalism itself, the very entities that capitalist rulers claim to be fostering.

Plutocracy vs. Democracy
Let us consider democracy first. In the United States we hear that capitalism is wedded to democracy, hence the phrase, "capitalist democracies." In fact, throughout our history there has been a largely antagonistic relationship between democracy and capital concentration. Some eighty years ago Supreme Court Justice Louis Brandeis commented, "We can have democracy in this country, or we can have great wealth concentrated in the hands of a few, but we can't have both." Moneyed interests have been opponents not proponents of democracy.

The Constitution itself was fashioned by affluent gentlemen who gathered in Philadelphia in 1787 to repeatedly warn of the baneful and dangerous leveling effects of democracy. The document they cobbled together was far from democratic, being shackled with checks, vetoes, and requirements for artificial super majorities, a system designed to blunt the impact of popular demands.

In the early days of the Republic the rich and well-born imposed property qualifications for voting and officeholding. They opposed the direct election of candidates (note, their Electoral College is still with us). And for decades they resisted extending the franchise to less favored groups such as propertyless working men, immigrants, racial minorities, and women.

Today conservative forces continue to reject more equitable electoral features such as proportional representation, instant runoff, and publicly funded campaigns. They continue to create barriers to voting, be it through overly severe registration requirements, voter roll purges, inadequate polling accommodations, and electronic voting machines that consistently "malfunction" to the benefit of the more conservative candidates.

At times ruling interests have suppressed radical publications and public protests, resorting to police raids, arrests, and jailings­applied most recently with full force against demonstrators in St. Paul, Minnesota, during the 2008 Republican National Convention.

The conservative plutocracy also seeks to rollback democracy's social gains, such as public education, affordable housing, health care, collective bargaining, a living wage, safe work conditions, a non-toxic sustainable environment; the right to privacy, the separation of church and state, freedom from compulsory pregnancy, and the right to marry any consenting adult of one's own choosing.

About a century ago, US labor leader Eugene Victor Debs was thrown into jail during a strike. Sitting in his cell he could not escape the conclusion that in disputes between two private interests, capital and labor, the state was not a neutral arbiter. The force of the state--with its police, militia, courts, and laws­was unequivocally on the side of the company bosses. From this, Debs concluded that capitalism was not just an economic system but an entire social order, one that rigged the rules of democracy to favor the moneybags.

Capitalist rulers continue to pose as the progenitors of democracy even as they subvert it, not only at home but throughout Latin America, Africa, Asia, and the Middle East. Any nation that is not "investor friendly," that attempts to use its land, labor, capital, natural resources, and markets in a self-developing manner, outside the dominion of transnational corporate hegemony, runs the risk of being demonized and targeted as "a threat to U.S. national security."

Democracy becomes a problem for corporate America not when it fails to work but when it works too well, helping the populace move toward a more equitable and livable social order, narrowing the gap, however modestly, between the superrich and the rest of us. So democracy must be diluted and subverted, smothered with disinformation, media puffery, and mountains of campaign costs; with rigged electoral contests and partially disfranchised publics, bringing faux victories to more or less politically safe major-party candidates.

Capitalism vs. Prosperity
The corporate capitalists no more encourage prosperity than do they propagate democracy. Most of the world is capitalist, and most of the world is neither prosperous nor particularly democratic. One need only think of capitalist Nigeria, capitalist Indonesia, capitalist Thailand, capitalist Haiti, capitalist Colombia, capitalist Pakistan, capitalist South Africa, capitalist Latvia, and various other members of the Free World--more accurately, the Free Market World.

A prosperous, politically literate populace with high expectations about its standard of living and a keen sense of entitlement, pushing for continually better social conditions, is not the plutocracy's notion of an ideal workforce and a properly pliant polity. Corporate investors prefer poor populations. The poorer you are, the harder you will work­for less. The poorer you are, the less equipped you are to defend yourself against the abuses of wealth.

In the corporate world of "free-trade," the number of billionaires is increasing faster than ever while the number of people living in poverty is growing at a faster rate than the world's population. Poverty spreads as wealth accumulates.

Consider the United States. In the last eight years alone, while vast fortunes accrued at record rates, an additional six million Americans sank below the poverty level; median family income declined by over $2,000; consumer debt more than doubled; over seven million Americans lost their health insurance, and more than four million lost their pensions; meanwhile homelessness increased and housing foreclosures reached pandemic levels.

It is only in countries where capitalism has been reined in to some degree by social democracy that the populace has been able to secure a measure of prosperity; northern European nations such as Sweden, Norway, Finland, and Denmark come to mind. But even in these social democracies popular gains are always at risk of being rolled back.

It is ironic to credit capitalism with the genius of economic prosperity when most attempts at material betterment have been vehemently and sometimes violently resisted by the capitalist class. The history of labor struggle provides endless illustration of this.

To the extent that life is bearable under the present U.S. economic order, it is because millions of people have waged bitter class struggles to advance their living standards and their rights as citizens, bringing some measure of humanity to an otherwise heartless politico-economic order.

A Self-devouring Beast
The capitalist state has two roles long recognized by political thinkers. First, like any state it must provide services that cannot be reliably developed through private means, such as public safety and orderly traffic. Second, the capitalist state protects the haves from the have-nots, securing the process of capital accumulation to benefit the moneyed interests, while heavily circumscribing the demands of the working populace, as Debs observed from his jail cell.

There is a third function of the capitalist state seldom mentioned. It consists of preventing the capitalist system from devouring itself. Consider the core contradiction Karl Marx pointed to: the tendency toward overproduction and market crisis. An economy dedicated to speedups and wage cuts, to making workers produce more and more for less and less, is always in danger of a crash. To maximize profits, wages must be kept down. But someone has to buy the goods and services being produced. For that, wages must be kept up. There is a chronic tendency­as we are seeing today­toward overproduction of private sector goods and services and underconsumption of necessities by the working populace.

In addition, there is the frequently overlooked self-destruction created by the moneyed players themselves. If left completely unsupervised, the more active command component of the financial system begins to devour less organized sources of wealth.

Instead of trying to make money by the arduous task of producing and marketing goods and services, the marauders tap directly into the money streams of the economy itself. During the 1990s we witnessed the collapse of an entire economy in Argentina when unchecked free marketeers stripped enterprises, pocketed vast sums, and left the country's productive capacity in shambles. The Argentine state, gorged on a heavy diet of free-market ideology, faltered in its function of saving capitalism from the capitalists.

Some years later, in the United States, came the multi-billion-dollar plunder perpetrated by corporate conspirators at Enron, WorldCom, Harkin, Adelphia, and a dozen other major companies. Inside players like Ken Lay turned successful corporate enterprises into sheer wreckage, wiping out the jobs and life savings of thousands of employees in order to pocket billions.

These thieves were caught and convicted. Does that not show capitalism's self-correcting capacity? Not really. The prosecution of such malfeasance­ in any case coming too late­was a product of democracy's accountability and transparency, not capitalism's. Of itself the free market is an amoral system, with no strictures save "caveat emptor."

In the meltdown of 2008-09 the mounting financial surplus created a problem for the moneyed class: there were not enough opportunities to invest. With more money than they knew what to do with, big investors poured immense sums into nonexistent housing markets and other dodgy ventures, a legerdemain of hedge funds, derivatives, high leveraging, credit default swaps, predatory lending, and whatever else.

Among the victims were other capitalists, small investors, and the many workers who lost billions of dollars in savings and pensions. Perhaps the premiere brigand was Bernard Madoff. Described as "a longstanding leader in the financial services industry," Madoff ran a fraudulent fund that raked in $50 billion from wealthy investors, paying them back "with money that wasn't there," as he himself put it. The plutocracy devours its own children.

In the midst of the meltdown, at an October 2008 congressional hearing, former chair of the Federal Reserve and orthodox free-market devotee Alan Greenspan confessed that he had been mistaken to expect moneyed interests--groaning under an immense accumulation of capital that needs to be invested somewhere--to suddenly exercise self-restraint.

The classic laissez-faire theory is even more preposterous than Greenspan made it. In fact, the theory claims that everyone should pursue their own selfish interests without restraint. This unbridled competition supposedly will produce maximum benefits for all because the free market is governed by a miraculously benign "invisible hand" that optimizes collective outputs. ("Greed is good.")

Is the crisis of 2008-09 caused by a chronic tendency toward overproduction and hyper-financial accumulation, as Marx would have it? Or is it the outcome of the personal avarice of people like Bernard Madoff? In other words, is the problem systemic or individual? In fact, the two are not mutually exclusive. Capitalism breeds the venal perpetrators, and rewards the most unscrupulous among them. The crimes and crises are not irrational departures from a rational system, but the converse: they are the rational outcomes of a basically irrational and amoral system.

Worse still, the ensuing multi-billion dollar government bailouts are themselves being turned into an opportunity for pillage. Not only does the state fail to regulate, it becomes itself a source of plunder, pulling vast sums from the federal money machine, leaving the taxpayers to bleed.

Those who scold us for "running to the government for a handout" are themselves running to the government for a handout. Corporate America has always enjoyed grants-in-aid, loan guarantees, and other state and federal subventions. But the 2008-09 "rescue operation" offered a record feed at the public trough. More than $350 billion was dished out by a right-wing lame-duck Secretary of the Treasury to the biggest banks and financial houses without oversight--not to mention the more than $4 trillion that has come from the Federal Reserve. Most of the banks, including JPMorgan Chase and Bank of New York Mellon, stated that they had no intention of letting anyone know where the money was going.

The big bankers used some of the bailout, we do know, to buy up smaller banks and prop up banks overseas. CEOs and other top banking executives are spending bailout funds on fabulous bonuses and lavish corporate spa retreats. Meanwhile, big bailout beneficiaries like Citigroup and Bank of America laid off tens of thousands of employees, inviting the question: why were they given all that money in the first place?

While hundreds of billions were being doled out to the very people who had caused the catastrophe, the housing market continued to wilt, credit remained paralyzed, unemployment worsened, and consumer spending sank to record lows.

In sum, free-market corporate capitalism is by its nature a disaster waiting to happen. Its essence is the transformation of living nature into mountains of commodities and commodities into heaps of dead capital. When left entirely to its own devices, capitalism foists its diseconomies and toxicity upon the general public and upon the natural environment--and eventually begins to devour itself.

The immense inequality in economic power that exists in our capitalist society translates into a formidable inequality of political power, which makes it all the more difficult to impose democratic regulations.

If the paladins of Corporate America want to know what really threatens "our way of life," it is their way of life, their boundless way of pilfering their own system, destroying the very foundation on which they stand, the very community on which they so lavishly feed.

Michael Parenti's recent books include: Contrary Notions: The Michael Parenti Reader (City Lights); Democracy for the Few, 8th ed. (Wadsworth); and God and His Demons (forthcoming). For further information, visit his website: www.michaelparenti.org.

________________
C.
from Al Burke :
Date: 21 January 2009
Subject: Europe to the Palestinians of Gaza, a reply to Professor Edward S. Herman.
http://www.nnn.se
(1) From: Prof. Edward S. Herman (U.S. economist)
Subject: EU official: No reconstruction for Gaza under Hamas rule
Date: 20 Jan. 2009

Are there no petitions or organized protests in process to contest this monstrous EU support of Israel's genocidal policies and penalizing of its victims?
Ed
(2) From: Al Burke <editor@nnn.se>
To: Prof. Edward S. Herman
Subject: EU official: No reconstruction for Gaza under Hamas rule
Date: 20 Jan. 2009

Ed,
In Sweden, there has been a respectable array of demonstrations against the Israel assault, several small cities included. I have not seen any public opinion polls, but I would guess that most Swedes are aghast at the crimes of the Zionists.
The centre-right government (more right than centre on foreign policy) regrets the unpleasantness in Israel/Gaza, and wishes that both parties would stop being so unkind to each other. Foreign policy is safely in the hands of Carl Bildt, a disastrous former prime minister who is now the disastrous foreign minister. He has been the empire's principal agent in Sweden for the past four decades.[1] He may lob a harmless word or two of disappointment in the direction of Israel, but anything more robust would be sensational.
The main opposition, the Social Democrats, have been undergoing the same sort of intellectual and moral decay that is evident among its sister parties throughout Europe. Göran Persson, the SDP prime minister for the preceding two terms, completely reversed Olof Palme's enlightened policy, of concern for the plight of the Palestinians, to embrace the Zionists and conducted a quietly effective purge of all Palme loyalists of any policy-making importance. The party is now firmly in the hands of Perssonites, and is unlikely to make much of fuss about a few thousand dead Palestinians-- although it's a pity about the children, and so forth….[2]
Furthermore, the SDP leadership lives in dread of the strong residual scepticism, in Sweden generally and among SDP voters in particular, about the value and legitimacy of the EU. So it avoids any subject that might tend to strengthen and confirm that scepticism, such as the disgraceful policy enunciated by Benita Ferrero-Waldner in the article you forwarded. I have yet to see anything about that in the docile Swedish press and, if it remains true to form, the disagreeable subject will mentioned only in passing, if at all.
As for the EU, its foreign policy is dominated by U.S. vassals (including Persson/Bildt's Sweden). The organization as a whole has been constructed to prevent any outbreak of democracy, which may help to explain why it is so inimical toward the democratically elected Hamas. You could fill the streets of Stockholm, Paris, London, etc. with angry protests against EU policy in this matter, without any likelihood of effecting change. Most citizens seem to be aware of that, but no one has yet been able to mobilize the large pool of simmering resentment to any persistently great extent.
That, in brief, is how the situation appears to me from my limited perspective. How to change it is a very large question that I don't feel well-qualified to answer. But I suspect that the remedy, if there is one, is to resuscitate the European labour movement.
Best regards,
Al Burke

[2] For some background on Persson's foreign policy, see:"Collateral Damage: Sweden's Legacy of Peace" at: http://www.nnn.se/n-model/foreign/damage.htm
Also, p. 47 ff. in this PDF document: http://www.nnn.se/n-model/foreign/ordfront.pdf
(3)
EU says no Gaza reconstruction under Hamas rule
Associated Press
International Herald Tribune
January 19, 2009


JERUSALEM: A senior European Union official said Monday that she expected humanitarian aid to the war-ravaged Gaza Strip to flow quickly but signaled that reconstruction of buildings and infrastructure would only begin when the EU has an acceptable Palestinian partner.

The EU considers Gaza's current ruler, the violent Islamic Hamas, a terrorist group and has no direct dealings with it. The United States and Israel take the same position.

Visiting EU External Relations Commissioner Benita Ferrero-Waldner did not explicitly single out Hamas, but she strongly hinted that it will be difficult to rebuild Gaza as long as the Islamic movement remains opposed to international peace efforts.

"For reconstruction you also need on the other side an interlocutor, so how will this be done? Is there a reconciliation process in the meantime ? What will be done? All that is open," she said

She also said that Hamas' confrontation with Israel was hindering prospects of a better life for the people of Gaza. "We don't want to go on to reconstruct Gaza every I-don't-know-how-many-years," she said. "This is not what we want. What we would like to see is a clear sustainable peace."

Israel on Sunday halted a three-week military offensive in the coastal strip, aimed at ending years of Hamas rocket attacks across Gaza's border with southern Israel. [According to the Israel/U.S. propaganda line. --A.B.] A massive Israeli bombardment from land, sea and air left damage to homes, public buildings and utility lines valued by Palestinian surveyors at more than $1.4 billion.

Europe has traditionally been a leading contributor of aid to the Palestinians. But Ferrero-Waldner urged the Palestinian public to demand peace from its leaders. "We have been at the side of the Palestinian population always and we will be at their side, but at the same time it's also for the Palestinian population on both sides to say, 'We want this peace,'" she said. "We know that many people have been killed and we felt terribly sorry. We don't want to see civilians killed but at the same time the population has to decide if it wants to go to peace."

Waldner-Ferrera spoke a day after European leaders visited Egypt and Israel to pledge support for measures to stop Hamas from rearming and to turn a fragile cease-fire into a durable peace.

Hamas seized control of Gaza from the Western-backed Fatah movement of Palestinian President Mahmoud Abbas in 2007. Talks aimed at reconciling the rival groups have so far failed, but Ferrero-Waldner suggested a rapprochement that returns Fatah to Gaza could be key to arranging international help.

"We are already in the first preparations for a conference on immediate humanitarian needs and then later on there would be, at the right moment, a conference on reconstruction, but that is more complicated." She did not elaborate.

The Palestinian Health Ministry says more than 1,200 Palestinians died in the fighting, more than half of them civilians. Israeli lost 13 soldiers, four of them in friendly-fire incidents. [Presumably, far fewer Israelis died because they "wanted to go to peace". --A.B.]


Note: Compare Ms. Ferrero-Waldner's conception of the reality in Gaza with that of U.N. rapporteur Richard Falk, reproduced below. --A.B.


(4)
Statement on Gaza
by Richard Falk
January 9, 2009

STATEMENT OF SPECIAL RAPORTEUR FOR THE PALESTINIAN TERRITORIES OCCUPIED SINCE 1967 FOR PRESENTATION TO THE SPECIAL SESSION OF THE HUMAN RIGHTS COUNCIL ON GAZA, 9 JANUARY 2009


1. This statement focuses on the impact of Israel's continuing Gaza military campaign, initiated on 27 December 2008, on the humanitarian situation confronting the 1.5 million Palestinians confined to the Gaza Strip. In accordance with the undertaking of the mandate, it confines its comments to issues associated with Israel's obligations as occupying power to respect international humanitarian law (IHL), which refers mainly to the legal obligations contained in the Fourth Geneva Convention of 1949, which sets forth in some detail the legal duties of Israel as the occupying power. The essential obligations of IHL are also considered to be binding legal duties embedded in customary international law.
This statement touches on issues of international human rights law (IHR), as well as the implications of severe and sustained violations of either IHL or IHR as raising issues of international criminal law (ICL). It is also necessary to assess the underlying Israeli security claims that the military incursion into Gaza was a 'defensive' operation consistent with international law and the United Nations Charter, and that no 'humanitarian crisis' existed making the scale and nature of the military force used allegedly 'excessive' and 'disproportionate.'

2. Although Israel has contended that it is no longer an occupying power, due to its withdrawal of its forces from within Gaza, it is widely agreed by international law experts that the continued Israeli control of borders, air space, and territorial waters is of a character as to retain Israel status legally as occupying power.

3. The quality of this report is undoubtedly diminished by the absence of first-hand observations of the pre-existing humanitarian situation existing in Gaza, which was to be the objective of a mission undertaken by the Special Rapporteur to gather information for use in making a report to the regular session of the Human Rights Council (HRC, scheduled for March, 2009. This mission was aborted when the Special Rapporteur was denied entry to Israel on 14 December 2008, detained for some 15 hours in a holding cell at Ben Gurion Airport, and expelled on the next day.
Such treatment of a UN representative would seem to raise serious issues for the Organization as a whole, bearing on the duties of a member state to cooperate, and to deal with those carrying out UN work with appropriate dignity. It is to be hoped that the government of Israel can be persuaded to reconsider its policy of exclusion that has hampered the work of this mandate.
This concern about exclusion has been compounded during the period preceding the Israeli attack upon Gaza, as well during the military operations, by denying access to foreign journalists, a policy that has been successfully challenged in Israeli courts, but as yet with no tangible results. As noted in the New York Times, Israel denies media representatives access to the humanitarian impacts of its military operations in Gaza while encouraging journalists to view any harmful effects of the rocket attacks on civilians in Israel.
Even requests by the International Committee of the Red Cross to investigate scenes of supposed humanitarian abuse have so far been refused, e.g. to visit the site of military action in the Gazan town of Zeitan that reportedly killed by deliberate action 60 members of the Samouni family, including several children. According to the ICRC, "the ICRC/PRCS team found four small children next to their dead mothers in one of the houses. They were too weak to stand up on their own… The ICRC believes that in this instance the Israeli military failed to meet its obligation under international humanitarian law to care for and evacuate the wounded. It considers the delay in allowing rescue services access unacceptable."
This issue of access is crucial for the work of Special Rapporteurs, and with respect to other country mandates, including Myanmar and Peoples Republic of Korea, and deserves the attention of the HRC, and of the United Nations generally.

4. The rationale for this Special Session is the existence of a humanitarian emergency in Gaza, a set of conditions that has been questioned in many public settings by the Israeli foreign minister, Tzipi Livni. Ms. Livni contends there is no need for a 'humanitarian truce' because there is no humanitarian crisis. She asserts that Israeli has allowed shipments of food and medicine to cross the border, but as UNRWA and other UN officials have observed, these shipments will not alleviate hunger and nutritional difficulties unless distribution becomes possible, which is not the case given the war conditions prevailing in most of the Gaza Strip. To what slight extent this dire circumstance can be addressed by the three hour pause in combat operations announced by Israel on 7 January remains to be seen.
Beyond the immediate crisis some underlying features should be noted: about 75% of the population lacks access to sanitary water and has no electric power. Such conditions are superimposed on the circumstances of Gazans resulting from the prolonged blockade that had deteriorated the physical and mental health of the population of Gaza as a whole, leaving some 45% of children suffering from acute anemia. It was also confirmed that sonic booms from overflying Israeli military aircraft prior to December had produced what was described as a 'contagion' of deafness among children in Gaza. It was also reliably concluded that up to 80% of Gaza was living under the poverty line, that unemployment totals approached 75%, and that the health system was near collapse from the effects of the blockade. This set of conditions certainly led impartial international observers and civil servants to an uncontested conclusion that the population of Gaza was already experiencing a humanitarian crisis of grave magnitude prior to 27 December.

5. The use of force by an occupying power against the security threats emanating from a population under occupation is permissible within the constraints set by international law. Israel claims that its current military campaign is reasonable and necessary given the scale and severity of the rocket attacks directed at Israeli civilian populations living in the South Israel towns of Sderot and Ashdod, and attributed to Hamas.
There are several issues that would need to be resolved in evaluating this claim that have not been adequately discussed to date in either diplomatic settings or by the media. It should be pointed out unambiguously that there is no legal (or moral) justification for firing rockets at civilian targets, and that such behavior is a violation of IHR, associated with the right to life, as well as constitutes a war crime. At the same time, the nature of the offense must be evaluated with the context of its occurrence. For the ceasefire period prior to 27 December, not a single Israeli death resulted from rockets fired from Gaza.
Further, since June of 2008 a ceasefire had been observed by both sides, with some infractions taking place, but without altering the willingness of both sides to uphold the ceasefire. During this period Israel had been expected to lift, or at least ease the blockade that had imposed severe hardships on the entire population of Gaza, especially through restraints on the supply of food, medicine and medical equipment, and fuel, but failed to do so. The acute harm done to civilian Gaza has been repeatedly pointed out by leading UN officials on the ground, including Karen AbuZayed, commissioner of UN Relief and Works Agency (UNRWA) that is most directly engaged with the daunting task of meeting the humanitarian needs of Gazans.

6. This blockade in effect for a period of 18 months was unlawful, a massive form of collective punishment, and as such in violation of Article 33 of the Fourth Geneva Convention, and also a violation of Article 55, which requires that the occupying power ensure that the civilian population has sufficient food and that its health needs are addressed.
Such blockade does not alter the character of the rocket attacks, but it does suggest two important conclusions from a legal perspective: first, that the scale of civilian harm resulting from Israeli unlawful conduct was far greater than that of Palestinian unlawful conduct; secondly, that any effort to produce a sustainable ceasefire should ensure that Israel as well as Hamas respect IHL, which most concretely means that Israeli interferences with the access of goods for the maintenance of normal civilian life must end, and cannot be reestablished as a retaliatory measure if some sort of rocket attack occurs in the future.
Similarly, if Israel should impose such constraints in the future, it would not provide any legal cover for resumed rocket attacks or other forms of Palestinian violence directed at Israeli civilians. There are some difficulties in attributing respon-sibility for all rocket attacks to Hamas. There are independent militias operating in Gaza, and even prior to Hamas, governing authorities, including Israeli occupation forces, were unable to prevent all rocket firings despite their best efforts to do so.

7. The Israeli military campaign was also justified by Israeli leaders as an 'inevitable' and 'unavoidable' response to the persistence of the rocket attacks. Here again it is important to examine the factual setting of Israel's justifications, which go to the reasonableness of such action and its defensive character. Most accounts of the temporary ceasefire indicate that it was a major Israeli use of lethal force on November 4, 2008 that brought the ceasefire to a de facto end, leading directly to increased frequency of rocket fire from Gaza. It is also relevant that Hamas repeatedly offered to extend the ceasefire, even up to ten years, provided that Israel would lift the blockade. These diplomatic possibilities were, as far as can be assessed, were not explored by Israel, although admittedly complicated by the contested legal status of Hamas as the de facto representative of the Gazan population.
This has legal relevance, as a cardinal principle of the UN Charter is to make recourse to force a matter of last resort, making it obligatory for Israel to rely in good faith on nonviolent means to end rocket attacks. Israel's good faith must be examined in light of the statement of Foreign Minister Tzipi Livni, who wrote on her Ministry of Foreign Affairs website on 4 January that "the intensive diplomatic activity of the last few days aims to alleviate the pressure for a ceasefire, and to allow time for continuing the military operation."

8. It is also important under international law to determine the extent to which the reliance on force is proportionate to the provocation and necessary for safeguarding security. Here, too, the Israeli arguments seem unpersuasive. As mentioned above, the rocket attacks, although unlawful and potentially dangerous, had caused little damage, and no loss of life during the 2008 ceasefire. To mount a major military campaign against an essentially defenseless society already gravely weakened by the blockade accentuates the disproportion of reliance on modern weaponry in combat situations where military dominance was largely uncontested.
It seems significant that Palestinian casualty totals at this time are estimated to be 800+ killed, some 3000 wounded, included many critically, with civilian victims set at about 25% by qualified observers, at least 1/3 of whom are children. In contrast, according to the latest reports, seven Israeli soldiers have died, apparently at least four as a result of 'friendly fire,' that is by Israeli firepower wrongly directed.
The onesidedness of casualty figures is one measure of disproportion. Another is the scale of devastation and the magnitude of the attacks. It is obvious that the destruction of police facilities, schools, and homes, as well as many public buildings, in crowded urban settings represents an excessive use of force even if Israeli allegations are accepted at face value. As discrediting as is the reliance on disproportionate force, is the lack of connection between the alleged threat associated with Gaza rockets and the targets of the Israeli attacks, giving added weight to the claims that the Israeli use of force is a form of 'aggression' prohibited by international law, and certainly excessive in relation to criteria of 'proportionality' and 'necessity.'

9. There have also been a variety of allegations made by qualified observers of Israeli reliance on legally unacceptable targets and on legally dubious weaponry that violate the customary international law prohibition on weapons and tactics that are 'cruel' or cause 'unnecessary suffering.' Among the targets viewed as unlawful under IHL: Islamic University, schools, mosques, medical facilities and personnel (including ambulances). Among weapons that are legally dubious under IHL: phosphorous gas in shells and missiles that burn flesh to the bone; dense insert metal explosives (so-called DIME) that cut victims to pieces, and raise risk of cancer for survivors; depleted uranium associated with deep-penetrating, so–called 'bunker buster' bombs used against Gaza tunnels, possibly causing radiation sickness for anyone exposed over a period of centuries.

10. This dimension of 'unnecessary suffering' associated with the Israeli campaign has an important feature that has not been given attention. In many contemporary situations of warfare large number of civilians seek to escape from harm by moving away from immediate danger, becoming 'internally displaced persons' or 'refugees.' But Israel through its rigid control of exit, directly and indirectly, has denied the civilian population of Gaza the option of becoming 'refugees,' never an option of choice, but reflective of desperation. Its denial tends to lend credibility that the population of Gaza is essentially imprisoned by Israeli occupation policy.
From the perspective of IHL this foreclosure of a refugee option for Gazans is a serious aggravation of the dangers posed for a civilian population, and underscores the gravity of the humanitarian crisis that has existed in Gaza since 27 December. Since the military campaign this situation has dramatically worsened. The comment by Iyad Nasr, with the Red Cross in Gaza City, is expressive of the general understanding: "The size of the operations and the size of the misery on the ground is just overwhelming…"

11. From the perspective of the Mandate for oPt the following recommendations seem worthy of the attention at this Special Session:


NOTES

(1) Resolution requesting restored access for Special Rapporteur to the occupied Palestinian territories as an essential feature of UN monitoring role;

(2) Resolution seeking General Assembly initiatives with respect to investigating allegations of war crimes;

(3) Resolution proposing long-term truce based on cessation of rocket launchings from Gaza and unconditional lifting of blockade;

(4) Resolution requesting Advisory Opinion from the International Court of Justice to assess legal status of Israeli presence in Gaza subsequent to Israeli 'disengagement' in 2005.




_______________
D.
from Gabriel Kolko :
Date: 22 January 2009
Subject: Understanding Gaza.
How to Inflame the Entire Muslim World




Understanding Gaza


by Gabriel Kolko


How will history describe the Israeli war against the Palestinians in Gaza? Another Holocaust, this time perpetrated by the descendants of the victims? An election ploy by ambitious Israeli politicians to win votes in the February 10 elections? A test range for new American weapons? Or an effort to lock in the new Obama Administration into an anti-Iranian position? An attempt to establish its military "credibility" after its disastrous defeat in the war with Hezbollah in Lebanon in 2006? Perhaps all of these...and more.

But one thing is certain. Israel has killed at least 100 Palestinians for each of its own claimed losses, a vast disproportion that has produced horror in much of the world, creating a new cause which has mobilized countless numbers of people­possibly as strong as the Vietnam war movement. It has made itself a pariah nation­save in the United States and a few other countries. Above all, it has enflamed the entire Muslim world

As Bruce Riedel, a "hawk" who has held senior posts in the CIA for nearly 30 years and is now one of President Obama's many advisers, has just written: "...the Israeli-Palestinian conflict is the central all-consuming issue for al Quaeda," and "Muslims feel a profound sense of wrong about the creation of Israel that infuses every aspect thinking and activities and has become the rallying cry used the convince the ummah of the righteousness of al Quaeda's cause." That was before Gaza. Much of the world now detests Israel but most it will live for many years to come with the consequences of Israel's atrocities. Muslim extremists will now become much stronger.

Charges of war crimes are now being leveled­and justifiably so­at the Israelis, many of whom themselves come from families that suffered in the hands of the Nazis over 60 years ago and now claim that the Holocaust was the only tragedy­as if the far more numerous deaths of goyim throughout the world after 1945 count for nothing. The United Nations and human rights groups are demanding that Israel be brought to justice for what now amounts to having killed over 1300 Gazans with immense firepower, many of which, like phosphorous bombs, are illegal. Israel has already prepared its senior officers to be ready to defend themselves against war crimes charges and Israeli Attorney General Menahem Mazuz several weeks ago warned the government was expecting a "wave of international lawsuits."

It will now have to live with the geo-political consequences in the region. Israel has, perhaps irreparably, imperiled its relations with the neighboring Arab states and other Muslim nations­Qatar and Mauritania have already suspended diplomatic relations with it­less because the ruling classes of these nations want to penalize it but because the Arab masses demand it, imperiling their own positions as rulers.

Even more important, although the United States has loyally supported Israel for decades, deluging it with the most modern arms and giving it diplomatic protection, it is now in an economic crisis and needs Arab money, not to mention oil imports, as never before. The stability of this crucial alliance will now be tested.

Since its inception, a cult of machismo­called self-defense­characterized much of Zionism, and although there were idealists like A. D. Gordon, the mainstream was more and more committed to a violent response to the Arabs who surrounded them. The military was increasing glorified, including by nominal Leftists like David Ben Gurion, so that today Israel is a regional Sparta armed with the most modern military and nuclear weapons, giving it a virtual monopoly in a vast region­one that will inevitably be challenged.

Uri Avnery, a leading Israeli anti-war activist, has just written that "... hundreds of millions of Arabs around us... will they see the Hamas fighters as the heroes of the Arab nation, but they will also see their own regimes in their nakedness: cringing, ignominious, corrupt and treacherous....In coming years it will become apparent that this war was sheer madness."

We are living through yet another great tragedy, and tragedies have been the staple of world history for centuries. Now former victims and their descendants are the executioners.
______________
Gabriel Kolko is the leading historian of modern warfare. He is the author of the classic Century of War: Politics, Conflicts and Society Since 1914, Another Century of War? and The Age of War: the US Confronts the World . He has also written the best history of the Vietnam War, Anatomy of a War: Vietnam, the US and the Modern Historical Experience. His latest book is After Socialism.

Comments
Israeli War Crimes
by Sinha, Radha
It is sad that the children and grand children of Holocaust impose similar holocaust on their neighbors who have been deprived of even the bare means of subsistence, let alone their dignity. The alleged war crimes in Gaza must be investiagted by a special tribunal appointed by the Security Council. If Obama Administration stands in the way of such a trial, it would have no face to advocate trial of those who are responsible for genocide in various parts of africa. The trial of civilian and military leadership in Israel and in the U.S.A. under George W. Bush is the test case for Obama Administration. If it fails, America will slowly but surely march towards irrelevance in world affairs.



____________
E.
from Mouvement de la Paix :
Date: 22 January 2009
Subject: Infos-Paix n°283 du 22 Janvier 2009.

INFOS-PAIX n°283 – 22 Janvier 2009. Cette lettre est diffusée aux abonnés de la liste "Infos-Paix".

Ce message est en html. S'il ne s'affiche pas correctement,

cliquez ici

A LA UNE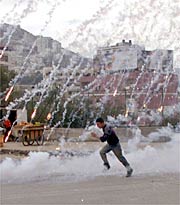 Israël-Palestine : Plus jamais ça !
Vite la solution politique !

La création immédiate d'un Etat de Palestine viable, souverain aux cotés de l'Etat d'Israël sur les frontières de 1967.

Le Mouvement de la Paix se réjouit que les armes se soient enfin tues dans la bande de Gaza. Le cessez-le-feu, tant attendu est un premier pas. L'arrêt des combats doit être mis à profit pour avancer dans la voie du règlement du conflit.
Force est de constater que l'intervention militaire israélienne n'a rien résolu, ni militairement, ni politiquement...


Lire le communiqué du 21 Janvier 2009
Télécharger le tract du Mouvement de la Paix (pdf)


Russie : Arrêtez les assassinats politiques


(...) Au delà du black-out sur la réalité des exactions commises en Tchétchénie, après d'autres assassinats, ces meurtres s'inscrivent dans une volonté d'accroitre la peur parmi les journalistes et défenseurs des droits humains en Russie, afin qu'ils se dissuadent eux-mêmes d'enquêter sur la vérité et poursuivre l'oeuvre de journalistes tels qu'Anna Politkovskaïa ou d'avocats comme Stanislav Markelov...


Lire le communiqué du 21 Janvier 2009




Utilisation d'armes toxiques et illégales à Gaza ?
Le Mouvement de la Paix demande la mise en place d'une commission d'enquête internationale indépendante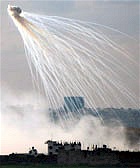 Suite aux informations alarmantes de l'organisation humanitaire Human Rights Watch (HRW) et de médecins norvégiens présents à Gaza, sur l'emploi d'armes toxiques (bombes à phosphore et DIME), le Mouvement de la Paix s'inquiète de l'utilisation possible de ces armes et alerte sur les ravages irrémédiables provoqués sur les habitants de Gaza.

De forts soupçons pèsent sur l'armée israélienne qui utiliserait des obus au phosphore blanc, substance extrêmement toxique capable de provoquer de terribles brûlures, ainsi que des lésions mortelles aux poumons, aux reins et au foie. L'utilisation de ces armes vient contredire l'argumentaire officiel selon lequel cette intervention militaire israélienne serait destinée «à désarmer le Hamas». «A qui fera-t-on croire que ces armes ne sont pas dirigées contre les civils ?» dénoncent Arielle Denis et Pierre Villard co-présidents du Mouvement de la paix...


Lire le communiqué du 16 Janvier 2009


Amplifier la mobilisation pour la Paix
Refuser toute instrumentalisation en France du conflit du Proche-Orient

La grande tenue des cortèges confirme l'engagement majoritaire des français pour une solution politique au conflit du Proche-Orient qui passe par la justice et le droit. Pour le Mouvement de la Paix qui agit depuis longtemps pour la Paix au Proche-Orient, la solution existe : celle de la création de l'Etat de Palestine, viable et de plein exercice, dans les frontières de 1967 avec Jérusalem comme double-capitale, vivant aux côtés de l'Etat d'Israël...


Lire le communiqué du 12 Janvier 2009


Forum social mondial : un autre monde est possible



Le Forum social mondial se tient de nouveau au Brésil à Belém du 27 janvier au 1 février. Une délégation du Mouvement conduite par Gérard Halie, membre du bureau national y sera présente. Le Mouvement de la Paix animera notamment deux séminaires : le 29 janvier sur le thème "La Culture de la Paix comme moyen d'action pour la prévention et la résolution des conflits et le développement des droits humains, sociaux, culturels, pour un monde de justice, de paix et de solidarité" et le 31 janvier sur le thème "Agir au niveau mondial pour une convention d'élimination de l'arme nucléaire".


Le bilan des manifestations pour la paix en Palestine

La date du 10 Janvier a été marquée par une très forte mobilisation dans de nombreux pays. Des centaines de milliers de personnes en France sont sorties dans les rues afin de manifester pour exiger une fin immédiate du conflit à Gaza. Selon les données transmises à ce jour, les manifestations ont réuni plus de 235.000 personnes en France. De nouvelles actions sont encore prévues pour les prochains jours : veillées devant les mairies, rassemblements, manifestations...


EN DEBAT DANS LA PRESSE

La guerre et le gaz naturel : l'invasion israélienne et les gisements de Gaza en mer




L'invasion militaire de la Bande de Gaza par les Forces israéliennes, est directement liée à la possession et au contrôle de réserves stratégiques de gaz en mer.
Il s'agit d'une guerre de conquête: on a découvert de vastes réserves de gaz au large du littoral de Gaza en 2002...


Lire l'article de Michel Chossudovsky paru sur Mondialisation.ca le 12 janvier


Ça suffit ! Le temps du boycott est venu

La meilleure façon de faire cesser cette occupation sanglante est de cibler Israël avec le même type de mouvement qui a mis fin à l'apartheid en Afrique du Sud...


Lire l'article de Naomi Klein paru dans The Guardian le 10 janvier


Boutros-Ghali: "L'échec des Nations unies"

En dépit de l'adoption d'une résolution par le Conseil de sécurité des Nations unies, le conflit se poursuit à Gaza. Le Hamas et Israël ont rejeté la demande de cessez-le-feu. Boutros Boutros-Ghali, ancien ministre égyptien des Affaires étrangères, revient sur la situation au Proche-Orient. L'ex-secrétaire général des Nations unies (1992-1996) appelle à une réforme de l'ONU.


Lire l'article du JDD du 15 Janvier 2009

A L'ONU


Gaza : Le quartier-général de l'ONU bombardé par Israël, Ban Ki-Moon indigné
15 janvier 2009 – Le siège de l'Office de secours et de travaux des Nations Unies pour les réfugiés de Palestine dans le Proche-Orient (UNRWA) à Gaza a été bombardé jeudi par l'armée israélienne, suscitant une vive protestation du Secrétaire général de l'ONU, Ban Ki-moon, auprès d'Israël.
« Aujourd'hui, le quartier-général de l'ONU à Gaza a été une nouvelle fois bombardé. J'ai transmis mes vives protestations et mon indignation aux ministres (israéliens) de la défense et des affaires étrangères et ai exigé une explication complète », a déclaré Mr Ban.

>> Lire la suite



Gaza : Le Président de l'Assemblée générale accuse Israël de violer le droit international


15 janvier 2009 – Le président de l'Assemblée générale, Miguel D'Escoto Brockmann, a accusé jeudi Israël de violer le droit international lors de son offensive militaire à Gaza qui dure depuis 20 jours et a déjà fait plus de 1.000 morts chez les Palestiniens.
« Nous ici aux Nations Unies sommes restés passifs trop longtemps alors que le carnage continue », a-t-il déclaré lors d'une séance spéciale de l'Assemblée générale, convoquée à la demande des 118 Etats membres du Mouvement des non-alignés.
"Les violations du droit international commises lors de l'attaque de Gaza ont été dûment notées: punition collective, usage disproportionné de la force et attaque de cibles civiles dont des maisons, des mosquées, des universités et des écoles", a-t-il ajouté.

>> Lire la suite



L'AIEA va enquêter sur l'usage présumé d'uranium appauvri par Israël à Gaza
21 janvier 2009 - La requête a été présentée lundi au nom des pays arabes par l'Arabie saoudite, sous la forme d'une lettre que l'agence onusienne "est en train de diffuser auprès des Etats membres", a indiqué la porte-parole de l'agence internationale de l'énergie atomique.

>> Lire la suite



Journée internationale dédiée à la mémoire des victimes de l'Holocauste (27 janvier)
15 janvier 2009 - En célébrant ce jour leur mémoire, souvenons-nous des victimes de l'holocauste en réaffirmant la dignité et l'égalité de tous les êtres humains, déclare Ban Ki-Moon.

>> Lire la suite

>> Autres actualités à lire sur le site de l'ONU

EN IMAGES

Ci-dessus : à Marseille (13) le 10 janvier

A gauche : Un pantin à l'effigie d'Ehud Olmert, ciblé par les chaussures des manifestants, à Besançon (25) le 17 janvier


A Besançon (25) le 10 janvier
A Paris également le 10 janvier...
... et à Nevers (58) le même jour

PLANETE PAIX n°538

Un numéro à ne pas manquer !
Pour vous procurer ce numéro, écrire à Planète Paix - Maison de la Paix - 9 rue Dulcie September - 93400 Saint Ouen en joignant un chèque de 5€ (frais de port et d'emballage compris)

>> Vous pouvez également vous abonner à Planète Paix en ligne

MATERIEL A TELECHARGER

sur le site du Mouvement de la Paix

APPEL A DONS POUR DEVELOPPER LE MOUVEMENT DE LA PAIX

Pour nous aider à relever le défi de la paix, nous avons besoin de votre soutien. Faites un don en ligne. Mieux encore, faites un don régulier (document à remplir).


SHALOM, SALAM, PAIX


Commandez

le badge

et

l'autocollant

dans la boutique de la paix !

Pour l'action pour la Paix au Proche-Orient,
je fais un don en ligne



MANIFESTATIONS POUR

LA PAIX AU PROCHE-ORIENT

SAMEDI 24 JANVIER 2009

PARIS - Manifestation nationale, RDV à 14H à Denfert Rochereau et marche en direction de l'Elysée

MARSEILLE - 15H30 Porte d'Aix
GAP (05) - 15H Esplanade de la Paix
BORDEAUX (33) - 15H Place de la Victoire
MARCAIS (18) - 11H Parrainage républicain à la mairie de Marçais, près de St Amand
VIERZON (18) - 10H30 au Forum République
BOURGES (18) - 15H30 Ilot Victor Hugo rue Moyenne, pour une chaîne humaine
A l'appel des comités du Mouvement de la Paix et de nombreuses autres organisations.

>> Voir les autres manifestations


EVENEMENTS
Amiens : Projection – Débat - Solidarité le Jeudi 5 Février 2009
Quelle issue au drame palestinien ?

Rencontre avec Eric BIESSE le réalisateur du film Bil'in, village au pied du mur. Proposé par le Mouvement de la Paix. A 18H30 à la Brasserie le Monitor (en face de la maison de la culture)
Non au massacre à Gaza, Retrait des troupes d'Afghanistan, Préparons le sommet de l'OTAN
Lancement de collectif à la fac de Paris 7 - Une première réunion publique aura lieu jeudi 22 janvier 2009 à 12h en amphi 5C: Avec l'intervention de Julien Salingue enseignant et doctorant en sciences politiques, spécialiste des questions palestiniennes et d'un membre du comité sur le sommet de l'OTAN.
Contact: Marie 06.87.21.38.83
Aubagne (13) : Débat Israël - Palestine, quels futurs possibles ?
Alors qu'un cessez-le-feu bilatéral est intervenu à Gaza, dont nul ne connaît la durée, un débat public est organisé autour des témoignages de Pierre Stambul, de l'Union Juive Française pour la Paix, et de Ramzi Tadros, militant pour la défense du droit des palestiniens, pour la paix et la justice au Proche-Orient.
Jeudi 22 janvier à 18h au Comoedia à Aubagne. Entrée libre et gratuite.
Caen (14) : Rencontre citoyenne autour du Mémorial de la Paix
Déplacement organisé par le comité de Saint-Ouen (93) du Mouvement de la Paix les 7 et 8 février 2009.
Commémorer la paix autrement. Renforcer la paix pour répondre aux besoins du monde, des peuples. Contact/inscription : 06 03 25 44 33
>>
Plus d'infos dans l'agenda
Paris : Action de vigilance pour l'abolition des armes nucléaires
Prochains RDV : 6 Février et 6 Mars. Jeûne et présence d'interpellation devant le Ministère de la défense : de 8h00 à 10h, au métro Solférino, de 12h à 13h, terre-plein angle Bd St Germain et rue de l'Université, de 16h à 17h15, au métro Solférino pl. Jacques Bainville.
Contact : marie-claude.thibaud (à) wanadoo.fr / 06 71 60 05 46
CONTRE-SOMMET DE L'OTAN


Contre-sommet du 60ème anniversaire de l'OTAN : Strasbourg-Kehl 2-5 avril 2009
Ouvert à tous. Inscriptions / renseignements :
http://www.no-to-nato.org
/ hr.braun [à] gmx.net (antispam : remplacer [à] par @)
De nombreuses initiatives commencent à voir le jour pour préparer ce contre-sommet :
ILE DE FRANCE : 22 janvier - Université Paris 7 (voir plus haut)
31 janvier - Champigny (94) Conférence debat, contact: cloamary [à] yahoo.fr
12 février - Paris 11ème - Conference débat - Mairie du 11eme contact: josette.herou [à] wanadoo.fr
6 Mars - Paris Sud - Conférence débat - contact edith.boulanger [à] mvtpaix.org
31 Janvier - St-Ouen - Réunion des Organisations du 93 à la Bourse du Travail
OUEST : Bretagne - Fin février tournée conférence - débat. Contact roland.nivet [à] mvtpaix.org
SUD-EST : Marseille - 14 mars - 6 Heures pour la paix. Non à la guerre non à l'Otan. Contact regine.minetti [à] mvtpaix.org
SUD-OUEST : Toulouse - Festival «Foutez leur la paix» le 12 mars. Contact Richard 06 32 07 23 90 laguerretue [à] gmail.com
NORD : Caen (14) Contact du collectif claude.ruelland [à] mvtpaix.org
CENTRE : Bourges (19) Contact du collectif : annie.frison [à] mvtpaix.org
12 février: Réunion du collectif pour la libération de Salah Hamouri
13 février: Soirée de solidarité et de paix du comité précédée de l'AG avec deux anciens déportés dirigeants de la FNDIRP et une organisation d'aide aux enfants du Népal
7 février ou 14 mars : Soirée Gospel dans l'église d'Achères pour les 60 ans du mouvement de la paix.
>> Plus d'infos : michel.thouzeau (à) gmail.com
Le Mouvement de la Paix recherche un comptable bénévole
Nous recherchons un comptable bénévole à partir du 1er janvier 2009. Après 10 années de bons et loyaux services, l'actuel comptable bénévole quittera sa fonction au prochain congrès. Il assurera cependant la comptabilité jusqu'à la fin de l'année et aidera le nouveau bénévole dans ses fonctions.
Le travail comprend la comptabilité de l'association et la gestion salariale de 7 personnes avec le logiciel « Ciel ». Cela représente à peu près 2 jours par mois.
>> Pour plus de renseignements s'adresser au 06 71 25 69 61 ou au 06 72 51 79 06


BONS VOEUX AVEC LA BOUTIQUE DE LA PAIX
>>
Aller à la boutique de la Paix
>>
Voir et commander maintenant
LA GALERIE L'ART ET LA PAIX
Des idées artistiques pour soutenir les actions pour la paix. De nombreuses cartes de voeux et cartes postales sont disponibles sur le site de la Galerie.
Aller à la Galerie l'Art et la Paix
FORUM
INTERNET
Soutenez le Mouvement de la Paix en utilisant Hooseek, le moteur de recherche solidaire.
RECEVOIR INFOS-PAIX
Vous pouvez consulter les archives et vous inscrire gratuitement ici :
>>
S'abonner à Infos-Paix
Le prochain Infos-Paix sera envoyé le 4 février. Envoyez vos infos avant le 2 février.


Pour visualiser ce message correctement, il vous faut autoriser l'affichage des images.
Pour vous désinscrire :
http://www.mvtpaix.org/liste/subscription.php?list_id=1&op=leave&email_addr=francis.feeley%40u-grenoble3.fr
_________________


F.


from Noam Chomsky :
Date: 22 January 2009
Subject: Chomsky on GAZA.


________________
G.
from Sheila Whittick :
Date: 25 January 2009
Subject: John Pilger on Gaza
The New Statesman


Hi Francis,
I thought you might like to read the attached article from the New Statesman - Pilger in fine form!
Sheila


A Ciminal's Medal


by John Pilger


As deserving as Blair, Howard and Uribe are of the Bush freedom medal, others cry out for a place in their company. For its assault on Gaza, I nominate the state of Israel . . . .

Tony Blair (left) receives his medal and applause from the outgoing president George Bush
On 13 January, George W Bush presented presidential "medals of freedom", said to be America's highest recognition of devotion to freedom and peace. Among the recipients were Tony Blair, the epic liar who, with Bush, bears responsibility for the physical, social and cultural destruction of an ­entire nation; John Howard, the former prime minister of Australia and minor American vassal who led the most openly racist government in his country's modern era; and Alvaro Uribe, the president of Colombia, whose government, according to the latest study of that murderous state, is "responsible for more than 90 per cent of all cases of torture".
As satire was made redundant years ago when Henry Kissinger and Rupert Murdoch were ­honoured for their contributions to the betterment of humanity, Bush's ceremony was, at least, telling of a system of which he and his freshly minted successor are products. Although more spectacular in its choreographed histrionics, Barack Obama's inauguration carried a similar Orwellian message of inverted truth. The continuity between the two administrations has been as seamless as the transfer of the odious Bono's allegiance, symbolised by President Obama's oath-taking on the steps of Congress - where, only days earlier, the House of Representatives, dominated by the new president's party, the Democrats, voted 390-5 to back Israel's massacres in Gaza.
The supply of American weapons used in the massacres was authorised previously by such a margin. These included the Hellfire missile, which sucks the air out of lungs, ruptures livers and amputates arms and legs without the necessity of shrapnel: a "major advance", according to the specialist literature. As a senator, the then President-elect Obama raised no objection to these state-of-the-art [sic] weapons being rushed to Israel - worth $22bn in 2008 - in time for the long-planned assault on Gaza's fenced and helpless population. This is ­understandable; it is how the system works. On no other issue does Congress and the president, Republicans or Democrats, conservatives or liberals, give such absolute support. By comparison, the ­German Reichstag in the 1930s was a treasure of ­democratic and principled debate.
Listen to newsreaders use pejoratives for Palestinians, calling them militants when they are resisters to invasion
This is not to say that presidents and members of Congress fail to recognise the Israel "lobbyists" in their midst as thugs and political blackmailers, though they never say so in public, because they fear them. For their part, the Israelis' current, phoney "unilateral ceasefire" in Gaza is designed not to embarrass, not yet, its new man in the White House. Obama's single acknowledgement of the "suffering" of the Palestinians has been long eclipsed by his loyalty oaths to Tel Aviv (even promising Jerusalem as Israel's capital, which not even Bush did) and his appointment of probably the most pro-Zionist administration for a generation.
As deserving as Blair, Howard and Uribe are of the Bush freedom medal, others cry out for a place in their company. With the assault on Gaza a defining moment of truth and lies, principle and cowardice, peace and war, justice and injustice, I have two nominees. My first is the government and society of Israel. (I checked; the freedom medal can be awarded collectively.) "Few of us," wrote Arthur Miller, "can easily surrender our belief that society must somehow make sense. The thought that the state has lost its mind and is punishing so many innocent people is intolerable. And so the evidence has to be internally denied."
The bleak irony of this should be clear to all in Israel, yet its denial has emboldened a militarist, racist cult that uses every epithet against the Palestinians that was once directed at Jews, with the exception of extermination - and even that is not entirely excluded, as the deputy ­defence minister, Matan Vilnai, noted last year with his threat of a
shoah
(holocaust).
In 1948, the year Israel's right to exist was granted and Palestine's annulled, Albert Einstein, Hannah Arendt and other leading Jews in the United States warned the administration not to get involved with "fascists" such as Menachem Begin, who became an Israeli prime minister.
This fascism, which was not often flouted openly, was the harbinger of Likud and Kadima. These are today "mainstream" political parties, whose influence, in the treatment of the Palestinians, covers a national "consensus" - that is the source of the present terror in Palestine: the brutal dispossessions and perfidious controls, the humiliation and cruelty by statute. The mirror of this is domestic violence at home. Conscripted soldiers return from their "war" on Palestinian women and children and make war on their own. Young whites drafted into South Africa's apartheid army did the same. Inhumanity on such a scale cannot be buried indefinitely. When Desmond Tutu described his experience in Palestine and Israel as "worse than apartheid", he pointed out that not even in white supremacist South Africa were there the equivalent of "Jews only" roads. Uri Avnery, one of Israel's bravest dissidents, says his country's leaders suffer from "moral insanity": a prerequisite, I should add, for the award of a Bush freedom medal.
My other nominee for a Bush freedom medal is that amorphous group known as western­­ ­journalism, which has always made much of its freedom and impartiality. Listen to the way Israeli "spokespersons" and ambassadors are interviewed. How respectfully their official lies are received; how minimally they are challenged. They are one of us, you see: calm and western-sounding, even blonde, female and attractive. The frightened, jabbering voice on the line from Gaza is not one of us. That is the sub­liminal message. Listen to newsreaders use only the pejoratives for the Palestinians, describing them as "militants" when they are resisters to invasion, even heroes, a word never used.
Mark the timeless propaganda that suggests there are two equal powers fighting a "war", not a stricken people, attacked and starved by the world's fourth-largest military power and which ensures they have no places of refuge. And note the omissions - the BBC does not preface its reports with the warning that a foreign power controls its reporters' movements, as it did in Serbia and Argentina, neither does it explain why it shows only glimpses of the remarkable coverage of al-Jazeera from within Gaza.
There are, too, the ubiquitous myths: that Israel has suffered terribly from thousands of missiles fired from Gaza. In truth, the first homemade Qassam rocket was fired across the Israeli border in October 2001; the first fatality occurred in June 2004. Some 24 Israelis have been killed in this way, compared with 5,000 Palestinians killed, more than half of them in Gaza, at least a third of them children. Now imagine if the 1.5 million Gazans had been Jewish, or Kosovar refugees. "The only honorable course for Europe and America is to use military force to try to protect the people of Kosovo . . ." declared the
Guardian
on 23 March 1999. Inexplicably, the
Guardian
has yet to call for such "an honorable course" to protect the people of Gaza.
Such is the rule of acceptable victims and unacceptable victims. When reporters break this rule they are accused of "anti-Israel bias" and worse, and their life is made a misery by a hyperactive cyber-army that drafts complaints, provides generic material and coaches people all over the world on how to smear as "anti-Jewish" work they have not seen. These vociferous campaigns are complemented by anonymous death threats, which I and others have experienced. The latest tactic is malicious hacking into websites. But that is desperate, since the times are changing.
Across the world, people once indifferent to the arcane "conflict" in the Middle East now ask the question the BBC and CNN rarely ask: Why does Israel have a right to exist, but Palestine does not? They ask, too, why do the lawless enjoy such special immunity in the pristine world of balance and objectivity?
The perfectly spoken Israeli "spokesman" represents the most lawless regime on earth, ­exotic tyrannies included, according to a tally of United Nations resolutions defied and Geneva Conventions defiled. In France, 80 organisations are working to bring war crimes indictments against Israel's leaders. On 15 January, the fine ­Israeli reporter, Gideon Levy, wrote in
Ha'aretz
that Israeli generals "will not be the only ones to hide in El Al planes lest they be arrested [overseas]".
One day, other journalists and their editors and producers may be called on to not only explain why they did not tell the truth about these criminals but even to stand in the dock with them. No Bush freedom medal is worth that.
_____________________


H.


from George Kenney :
Date: 23 January 2009
Subject: Podcast interview re Zionism w/ Dr. James Petras.

Dear Francis,
In a follow-on to Martin Fletcher's report from Israel, here's a conversation about Zionism with Dr. James Petras.

For some time I've tried asking various guests what about the role of the larger Jewish community in America in explaining Zionist dominance of U.S. foreign policy, but none took the bait. Finally I found someone who's thinking as I do, trying to understand the bigger picture of the Zionist power structure, who also understands the astonishing taboos surrounding it. That's it's nothing like an ordinary lobby but is something qualitatively different entirely. I've no doubt that James Petras couldn't avoid being tarred and feathered for what he's saying if it weren't for the fact that he's had an extraordinarily productive and highly regarded academic career as a leftist academic.

I think Jim brings an honesty, balance, and intensity of purpose that's all too rare. For me, he's a inspirational role model.

And I'm quite certain that a lot more people will start agreeing with Jim's views in coming years. Quite possibly a (large) majority.

As always, if you think that this podcast is worthwhile please feel free to redistribute the link.

Best,
g.